As Mavs center Salah Mejri looked around the room, his eyes kept coming back to the computer screen. Next to him sat a mother and her children, and at the next table over was a mother, a father, and their daughter, hammering away on the keyboard. The new PC was freshly loaded with games for kids and software for adults to help them apply for jobs and learn new skills. The only things shining brighter than the screens themselves were their smiles.
But as Mejri sat on his own, next to a vacant computer station, his eyes kept coming back to the screen with the Mavs logo in the middle.
"That means a lot, when I see the logo on this computer in this place," he said.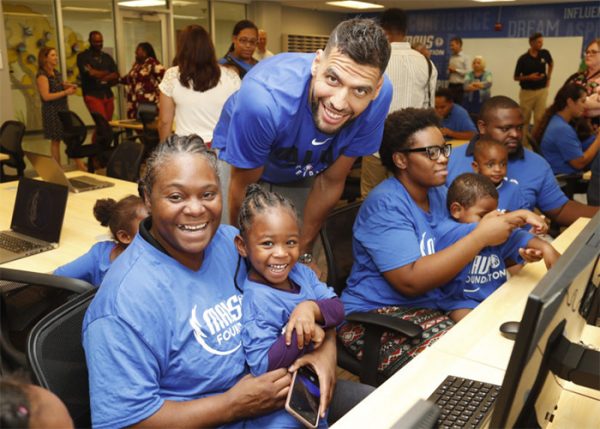 "It's not about basketball anymore," he said. "It's not about competing and playing. We didn't do anything with a ball today. It's all about this nice room with Mavs logos on the screens."
Mejri was a guest of honor on Aug. 14 at the Mavs Foundation's unveiling of a new space at Vogel Alcove, whose mission is to help young children overcome the lasting and traumatic effects of homelessness. For nearly 30 years, parents have been able to drop off their young children at Vogel Alcove while they go to work or to rebuild their lives completely, from the ground up.
About a year and a half ago, the Vogel Alcove board met to discuss new ways to engage with their families to help improve their lives.
"One of the things that we realized is that we wanted to add more of what we called 'two-generational programming,'" CEO Karen Hughes said. "What that means is not only do we serve the children downstairs, but we wanted to have more space to be able to provide services for the families all under one roof, so that when families come here, they don't have to drop their kids and go somewhere else to get those services. They can get them right here, under one roof, while their kids are downstairs."
The computers aren't just for games, although those are fun, too. No, they're meant for the parents to build résumés, apply for jobs, and to improve their computer literacy to compete in the modern market. Hughes said the mission of the Parent Opportunity Center is threefold: job readiness, career advancement, and social networking.
"We can help parents and families be able to build that safety net under them, from resources in the community as well as networking amongst themselves and other people," Hughes said.
Within the last year, the City of Dallas's homeless population has grown to nearly 4,000, and worse yet, its unsheltered population has quadrupled in the last five years. Shelters have struggled to receive funding from the city to provide ample services, according to a Dallas Morning New article from December 2017, making the Mavs Foundation's donation all the more meaningful to the community. Readying for and securing a job are the key first steps to building a stable life, and the Foundation is helping Vogel Alcove to achieve that mission. The space has served more than 14,500 homeless children since it opened, and now it can help their families, too.
"We were really thrilled to be able to create this space for the Parent Opportunity Center, because it's all about families," Mavs director of community relations Katie Edwards said. "It's not just about the kiddos, but how much help we can give to the parents as well to help them be successful."
During the opening statements from Hughes and Edwards at the ribbon-cutting ceremony, you could hear a few giggles in the background. That's because the kids were completely in awe of Mejri's height, of course. (And because team photographer Danny Bollinger taught one of the children how to use his camera.) Mejri eventually picked up a little girl so she could experience life at 7-foot-2. He asked her parents if she'd ever been on an airplane before. Her mother said no. "She just did," Mejri joked. As always, the Mej was a hit with the crowd.
"Every player from the Dallas Mavericks would be happy to do such things, especially here in the community with the Mavs Foundation," Mejri said. "I think it's a big thing, it's a huge thing, giving back to the people who are pushing us all year long for 82 games."
"It's not just meeting a basketball player," he added. "It's meeting that team who is doing something great for the community."
The Mavs Foundation, along with partners PPG Paint and the Graphics Group, also renovated the room and provided new furniture in addition to the computers. Parents will be able to receive career counseling and coaching services free of charge in the space.
"I want to thank the Mavs Foundation for this very, very generous gift, as well as their partners who helped put this together and make this possible," Hughes said. "We're very excited about this new center."